We got all the details (and photos) of their latest Jordan 1 Court Lux and Jordan 10 Court Lux designs.
On the heels—er, soles—of her immensely successful debut collab with Air Jordan, Aleali May has teamed up with the sneaker brand once again. This time she's joined forces with champion basketball player Maya Moore to launch a two-shoe pack—the Aleali May x Air Jordan 1 Court Lux High Top OG's and Maya Moore x Air Jordan 10 Court Lux—in coordinating colorways that encompass the intersection of sports and style. Both styles will launch in North America on December 22, so mark your calendars. We were invited to Atlanta to hang out with May and Moore during their campaign photo shoot to chat about the inspiration behind their latest designs, the meaning in the details, and what they've picked up from each other in the process.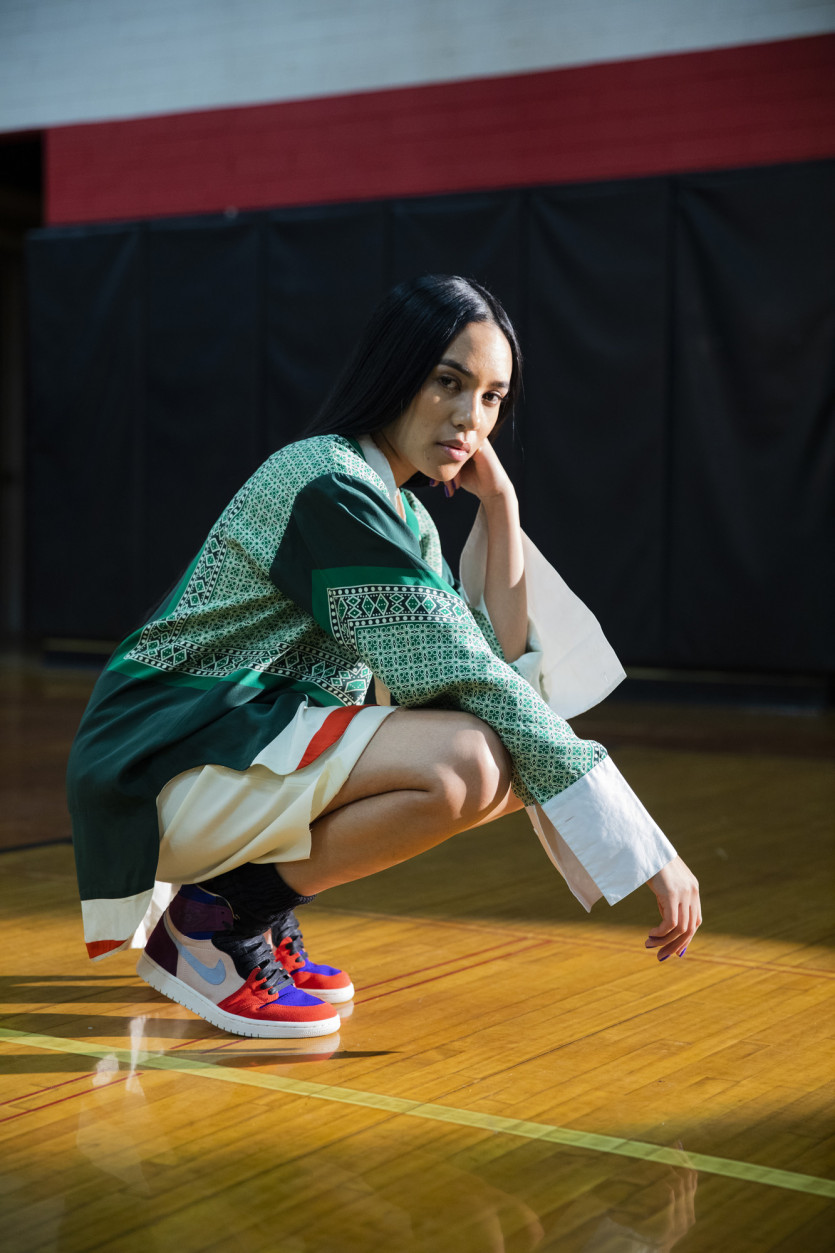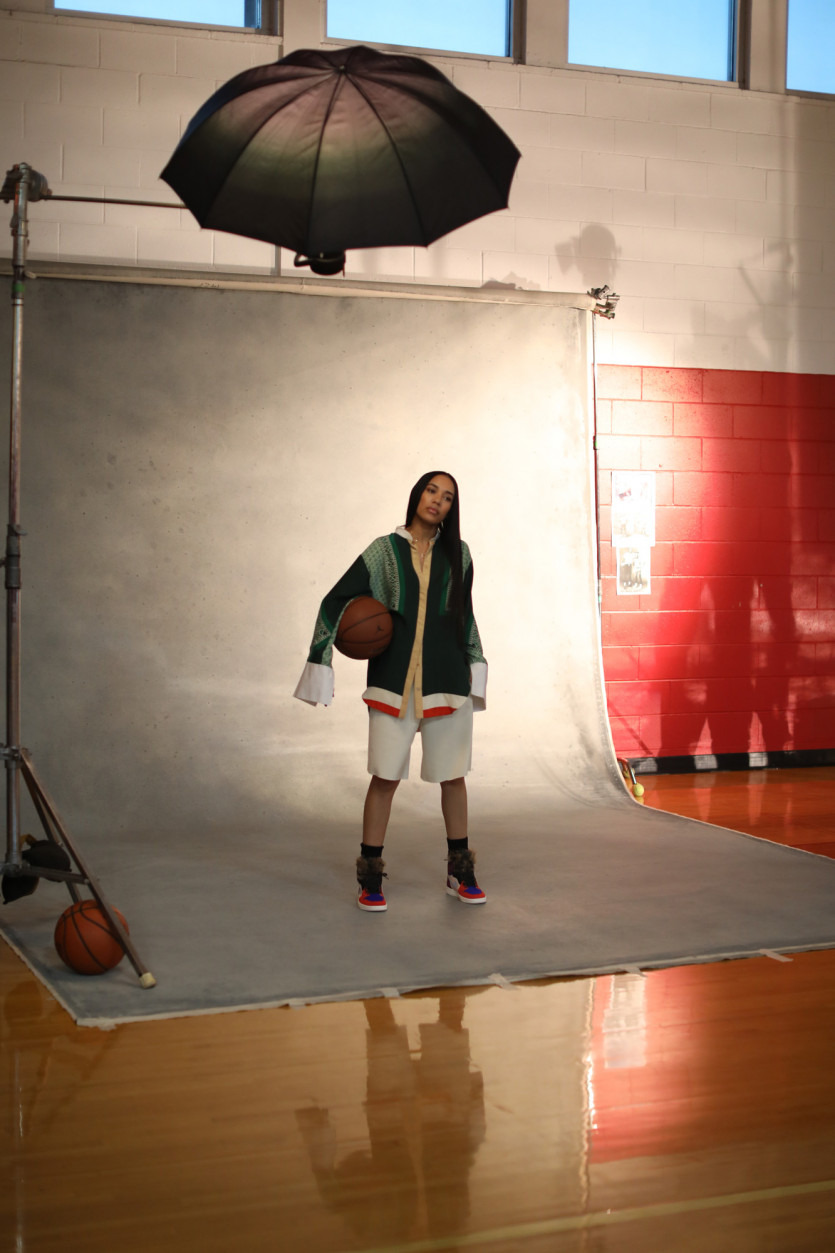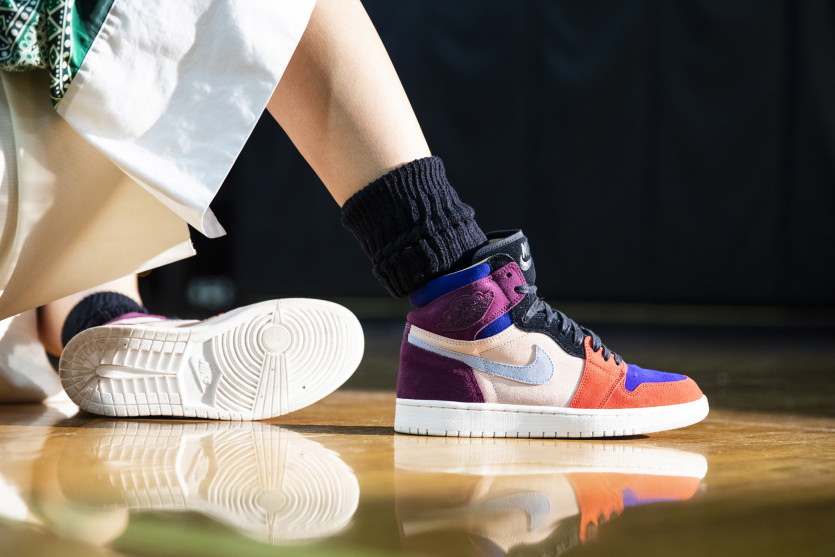 Tell us a little bit about the inspiration behind your latest design:
Aleali May: "Jordan 1's are kind of what I'm known for. As far as pairing high-end fashion with street wear, I've always loved the 1 silhouette. I'd wear this [pair] to a fashion show, or you can wear this in the street every day. I think the silhouette definitely fits any type of style, and there's such a broad range for you to really dress something up.
"This [shoe] is really just highlighting the collaboration between two amazing people coming from different worlds and trying to be the Jordan of our scenes, whether it's fashion or on the court. We took a lot of our favorite colors and mixed materials to give you that high-end and street collaboration. I think it's really something that not only girls are going to like, but also men are going to like, too.
"Back in the day, I was really fascinated with the way skate culture came together with basketball culture, with high-end fashion—the Louis Vuitton x Stephen Sprouse collaboration. Just pops of color and really just setting the tone saying, 'I'm here!' I think that these 1's are really just a mirror of all of my inspiration growing up and really how I found my personal style."
Love the faux fur. Was it part of the design from the get-go?
AM: "In the first sample, you weren't able to take it off, but I wanted to give an option because the color is already a lot. So if a girl wanted to just wear the color without the fur or she wanted to add the fur one day, it will give you two different looks in one."
How was this collab different?
AM: "For my first [collab], I really wanted to give back to my hometown in L.A., and with this one I wanted to do something fun, super fashionable, and very futuristic, so we definitely played around with a lot of colors and more materials."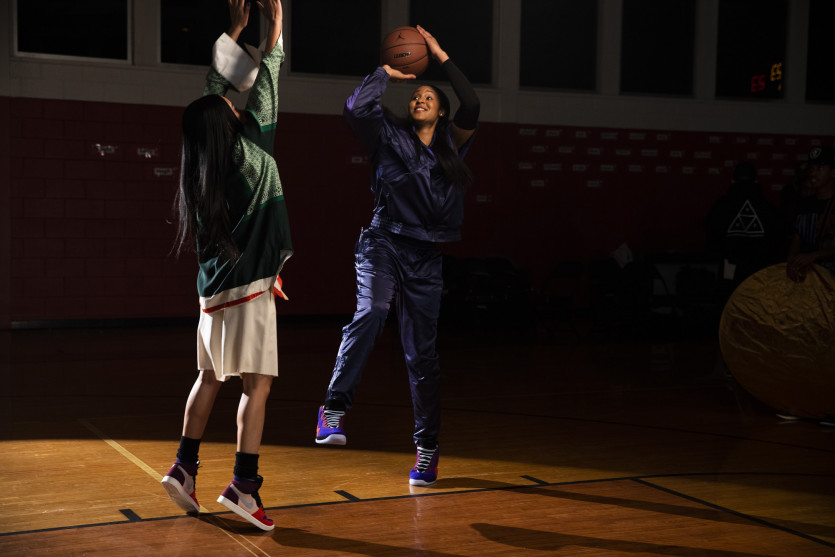 Do you remember your first pair of Jordans?
AM: "My uncle had always bought me Jordans since I was little. He always bought himself a pair of Jordans, and then he would buy me a pair of Jordans. My first memory was with the Jordan 12. I remember just really loving them. I had no idea why, but I laid them to the ground—anywhere I went, I was like, 'I want to wear these.' My family was trying to get me out of them, and I was like, 'No, I want to wear these all of the time!' I feel like that's where my personal love for the Jordan brand started, aside from always looking up to my family to see what's cool."
How would you wear it?
AM: "[For this campaign,] I cut some Stella McCartney dress pants, and I made them [into a] kind of basketball short. I'm wearing a Céline top—the one from Phoebe's campaign where she had the girl on the skateboard. Earlier when I walked in, I had a sweat suit on with the shoes—so you can wear this with literally anything, and you kind of just have it play as your pop of color—or you can wear a lot of color with it."
Who is your dream person you'd love to see wear your shoe?
AM: "Beyoncé. I'm part of the Beyhive, so this shoe is definitely for women and women coming together. I feel like it's so cliché, but I'm such a Beyoncé fan. I would love to see her rock a pair, just like street-style walking out of her New York apartment, just swaggin' it up."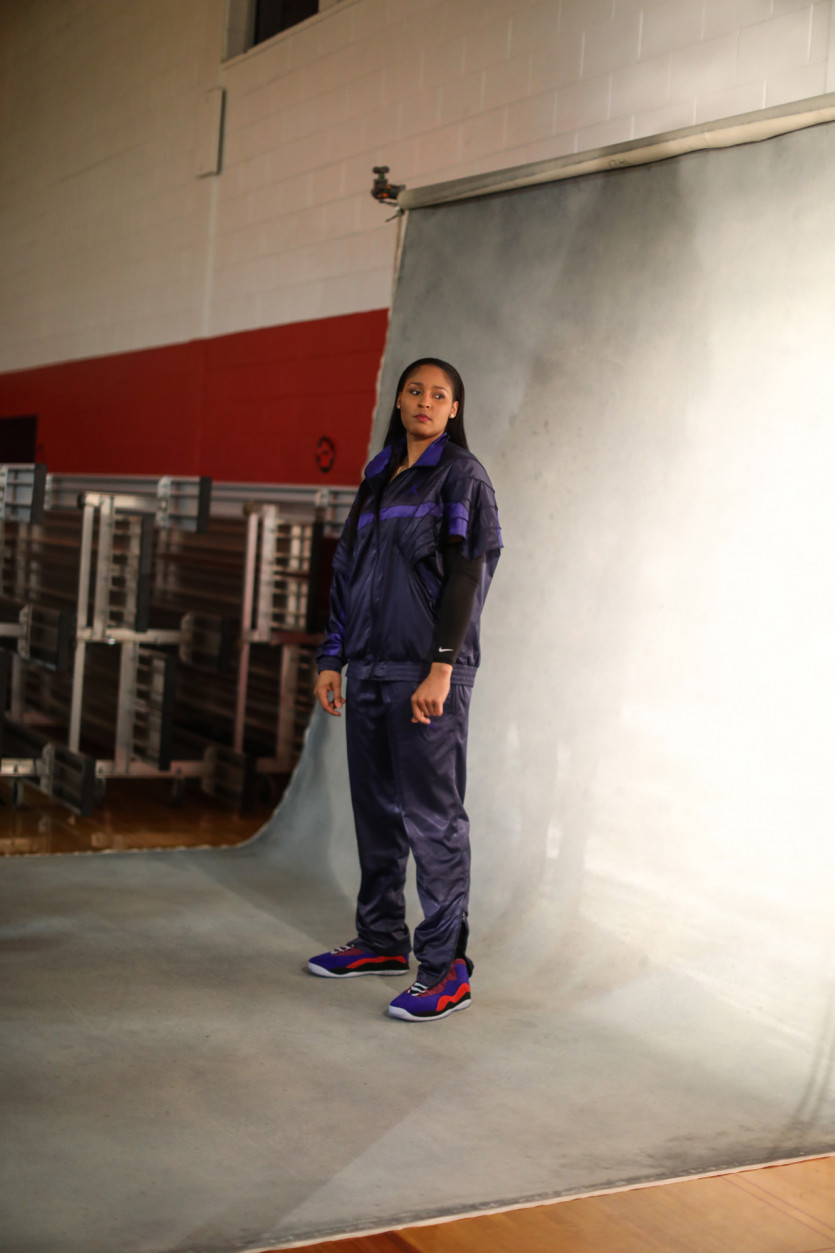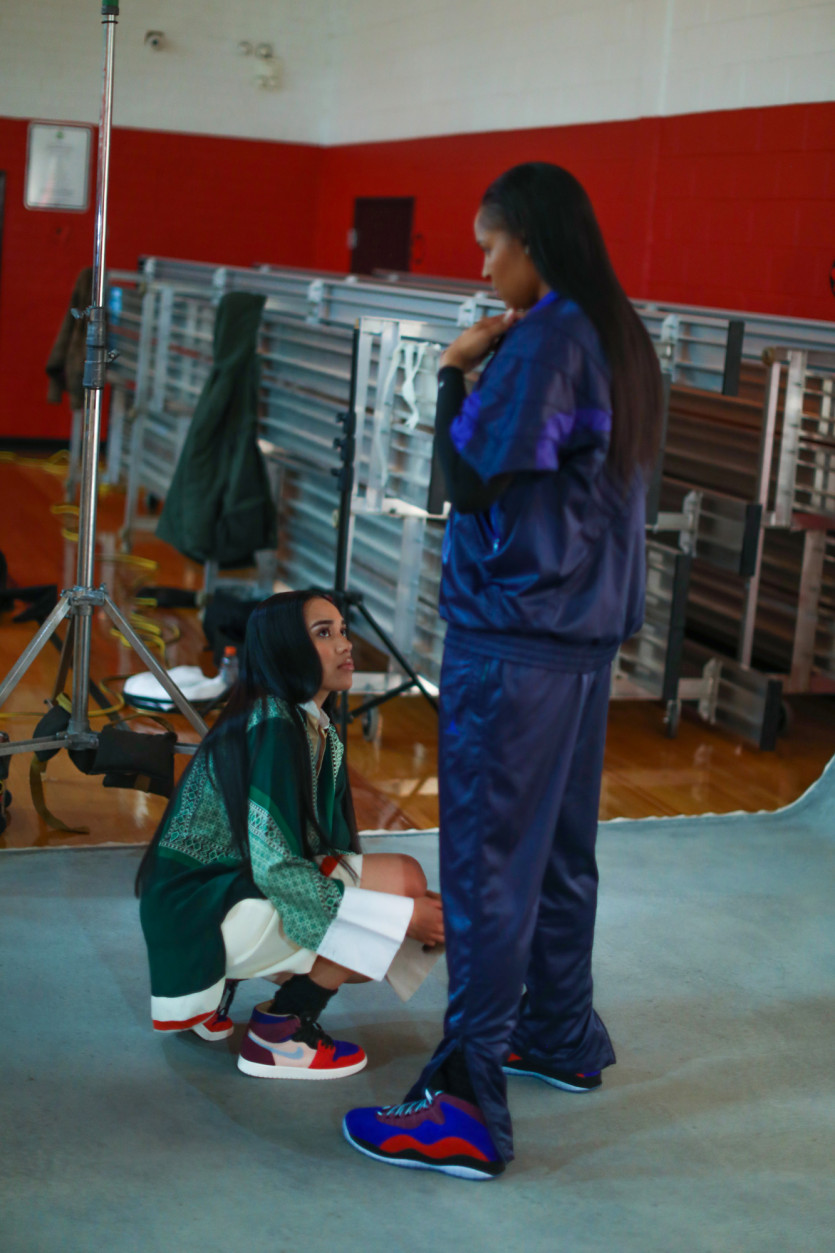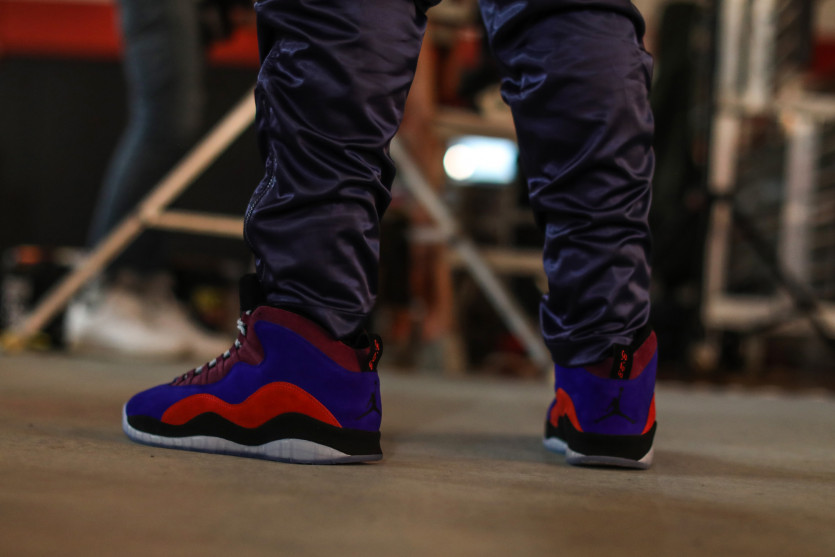 There are so many little details in your design. Tell us a bit about them.
Maya Moore: "The 1's and the 10's are my personal favorites. I realized several years ago that the 10's were the first pair of Jordans that I ever owned, so they have a special place in my heart. One of the elements of the 10's that I can appreciate is it's a storytelling shoe. It has the accomplishments on the bottom—I understand the life and the process and the struggle of what is in between those highlights on the bottom of the shoe—the whole story of working hard and preparing, of rising and falling, just the grind of the game and the joy of getting better and competing is all in the shoe.
"And then the colors. You know, Aleali had a lot to do with the materials and the colors, so I think it's got a softness to it, but it's also got kind of a classic feel as well. It's vibrant, which I feel like fits me so well, and it's a cool-looking shoe. After you finish working hard on something, you want it to be cool, and I think that absolutely got accomplished. I appreciate comfort since I'm on my feet for a living, so something that is wearable and will be comfortable for any sized foot [is important]."
What about the 3:23?
MM: "A little piece of me is on the back pull tab—it's my favorite bible verse. I leave the bible verse Colossians 3:23 at the end of my autographs. It's a verse that's a reminder of my motivation—that I'm doing everything ultimately and unto the Lord, and it just keeps me grounded, keeps me focused, keeps me motivated, and I love sharing that with people. So how cool to be able to leave a piece of me on the 10's."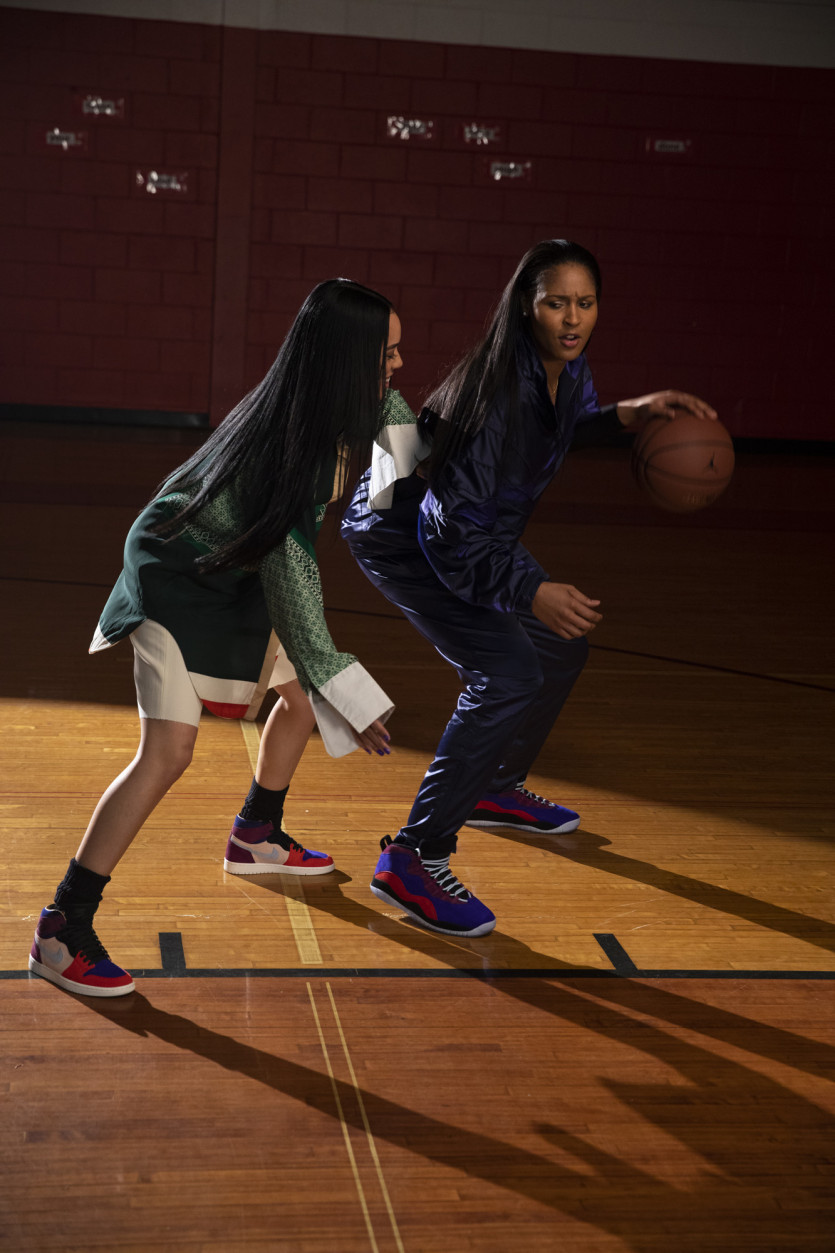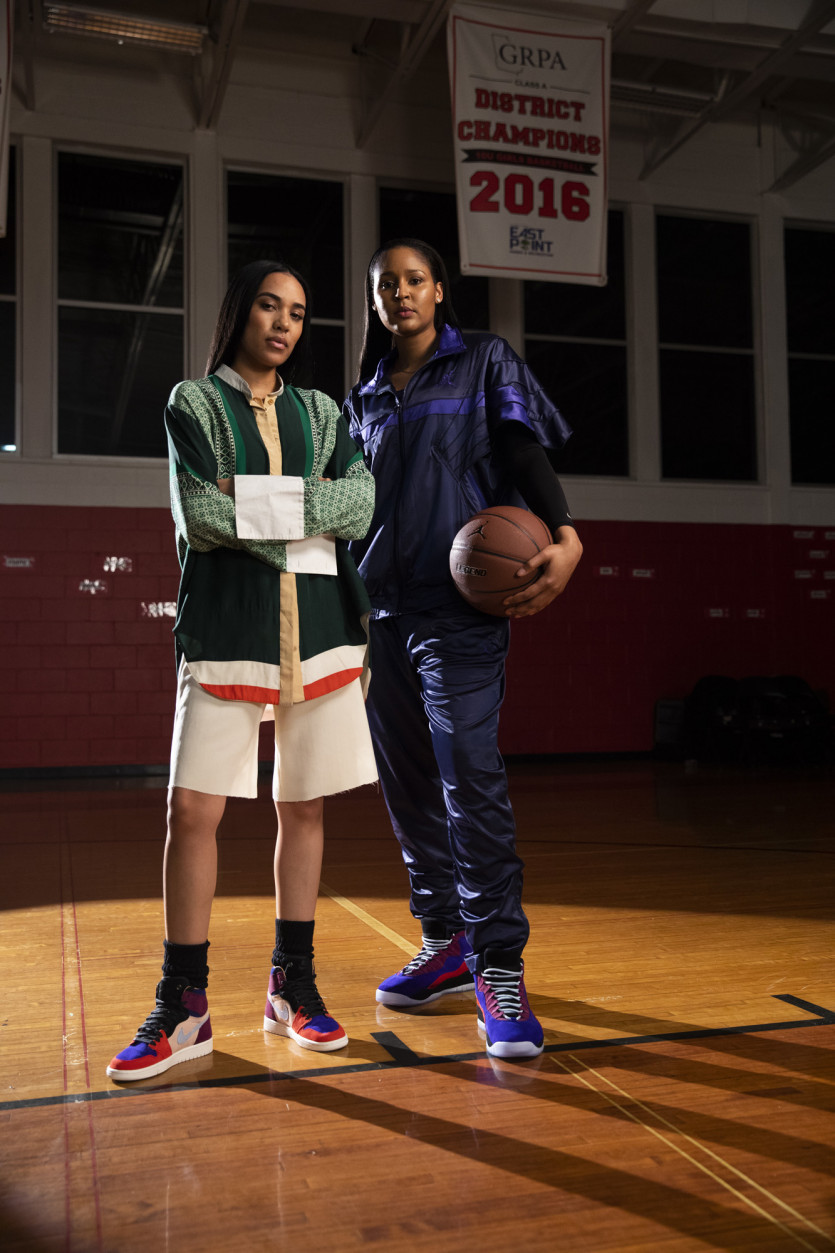 What is it about the 10's that you love?
MM: "One of the cool things about the shoe is its versatility. With my style, it's for a pop of color. They've got some bold colors in them that can be a really nice highlight for a simple black jean, or you can wear a Jordan jumpsuit with it. Right now I'm wearing a classic Jordan jumpsuit, and it's fire—I feel like I could go to dinner, put on some jeans and put on a bomber and just walk around downtown somewhere. I probably wouldn't necessarily wear these with a dress—as a tall person with a larger foot, you got to be mindful about combinations [laughs]."
What's been the best part of working with Aleali and Jordan Brand?
MM: "I think the highlight is really getting to spend time together. I get to spend time with Aleali; I get to see her do what she does. She's styling me, styling herself, [I'm] being terrified, and she's being creative with cutting things. I'm so not in that lane of cutting clothes, where she's like, 'Oh yeah. We're going to cut this, and we're going to do this!' I'm like, 'Oh my gosh, I'm freaking out,' and then she finishes, and I'm like, 'Wow, amazing!' Or moments where I'm playing with the ball or spinning it on my fingers and she's like, 'Oh yes, that's amazing.' She's just admiring the little tricks that I do as a basketball player. We just get to step into each other's world a bit and appreciate the things we bring to the table, so that's been what I've enjoyed most today."
Have you taught her any moves?
MM: "Not intentionally! She might have picked some things up through observation, but I haven't. We've been trying to stay on schedule here, but if there's enough time, I might teach her a proper shooting technique if she wants it."